Ever wonder why cum shots are a must, regardless of whether you're watching straight or gay porn? Or if you identify as straight, whether getting an erection at the sight of another man's hard penis makes you gay? (Of course, it's totally fine if you are.) As someone who has masturbated all my life to all types of straight, gay and bi porn, and who is fascinated by human sexuality, I've asked these questions.
One explanation to these apparent contradictions is the theory of "sperm competition." In short, sperm competition is an evolutionary adaptation by humans (and other animals), that we learned over hundreds of thousands of years, to increase the likelihood of a particular male fertilizing an egg, and involves the woman having serial sex partners to conceive with the most potent mate.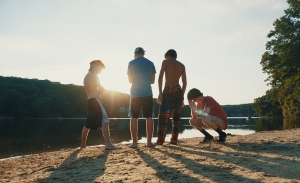 In his book "Sex at Dawn," Christopher Ryan explores evidence from anthropology, archaeology, primatology, anatomy and psycho-sexuality to show how far from human nature monogamy really is. Ryan writes, "Here's a head scratcher. Why do heterosexual men get off on pornography featuring groups of guys having sex with just one woman? It doesn't add up, if you think about it. It's more cone than ice cream. And the suggestive strangeness doesn't end with the counter-intuitive male-to-female ratio; it's male ejaculation that puts the money in the money shot."
As BateWorld member alwayshrdguy, who identifies as straight puts it, "Watching another cock grow for some reason triggers something in mine and has the same effect on mine. And seeing them stroking, hearing their moans gets me going and I go stroke for stroke. When their cum flies it always pushes me over the top the same as when my girlfriend goes to town on me."
So sperm competition explains why even for straight guys, the sight of an erect penis and another man's ejaculation, get them hard and ready to go. Through evolutionary hard wiring he is primed by that stimulus to be the next in line so to speak.
In their book, "A Billion Wicked Thoughts," neuroscientists, Ogi Ogas and Sai Gaddam do a deep dive into mountains of data on people's porn searches to show what the Internet reveals about our sexual turn ons. They write, "British psychologist Nicholas Pound even speculates that the erect penis and the 'money shot' are both visual cues of sperm competition that trigger arousal." Further, "sperm competition cues may also help explain another popular genre of male-targeted online porn: group sex…Pound discovered that men are consistently more aroused by multiple men than multiple women or by a man and a woman."
Are you turned on by big heads and long shafts? According to Ogas and Gaddam, "Many biologists hypothesize that the bulbous head and extended length of the human penis is another physiological adaptation. Its shape is very effective at shoveling out the sperm of any rivals."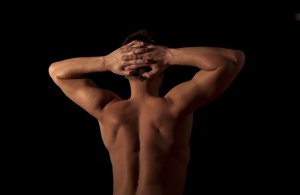 Like to watch guys thrusting into women where you see the guys' ass muscles clenching as he pounds her? A 2003 study by Gordon G. Gallup and colleagues concluded that one evolutionary purpose of the thrusting motion characteristic of intense intercourse is for the penis to "upsuck" another man's semen before depositing its own.
According to Ogas and Gaddam, "One final piece of evidence from the Internet supports the existence of a sperm competition cue in the male brain. In gay porn, gang bangs are also extremely popular."
My point here is not about labels per se, and it is healthy to explore our naturally fluid sexual orientation. However, getting a boner at the sight of a large male organ and cum shot may, or may not, have anything to do with your sexual orientation, but everything to do simply with being a man, whether you are straight, gay or bi. It is how your male brain has evolved for successful breeding over hundreds of thousands of years. Boners are contagious, like yawning.
Arousal cues due to sperm competition is just another reason all men are brothers in the bate, and why masturbation has no orientation and is just a natural and fun thing for two or more guys to do together and bond, including if you're straight. So, next time you're with the guys and someone puts on a porno, don't be afraid to suggest that you all haul it out. Chances are, they will want to also.
Below are two additional quotes I obtained for the article:
A straight BateWorld member who asked to remain anonymous said, "I just find it incredibly arousing to watch another guy in his most primal pleasure, most in tune with himself in that moment. Seeing him hard is watching his body do what it's naturally supposed to do. Watching him cum is to see him succumb to the deepest pleasure while extracting liquid that makes him a man. I love watching a guy jerk off and shoot his load because it makes me feel connected as a man – I know his pleasure and he knows mine."
As straight BateWorld member who also asked to remain anonymous puts it, "I've always masturbated to straight porn and as a teen and young adult would do it with guys when we looked at it. We never jerked each other off. However the Internet did broaden my masturbation horizons for it to be okay to stroke, jerk off, and to help another guy, dude, or friend to get his nut. It may be that his wife, fiancé or girlfriend may not be able to help him get the satisfaction that he's looking for in his orgasm."
**This article is not meant in any way to condone any form of non-consensual group sex**
Stefan Jax is known as DoggyBoner on BW
Click Here for more  Masturbation Has No Orientation stories.
Are you a BateWorld Premium Member? Sign up today and share your penis admiration with other men on BW VidChat.
https://www.thebatorblog.com/wp-content/uploads/2018/10/Masturbation-Has-No-Orientation.png
450
810
Stefan Jax
/wp-content/uploads/2015/02/batorblog3.png
Stefan Jax
2018-11-16 12:45:03
2018-11-19 19:03:08
Straight Guys Turned On By Penis