I was 18 and comparing dicks with a buddy on my cross country team. We chat about porn, compare sizes and bust a nut together in the locker room urinals before practice. Just two endlessly horny high schoolers jerking off. Pretty standard. He's now happily married to a woman and we still keep in touch. Masturbation has no orientation.
I'm 22 years old in college, meeting up with a 26 year old medical student who posted about needing to relieve stress during studying. We stroke side by side in his apartment on the downtown campus, straight porn on the screen, ending with a side by side shooting contest that ends in a friendly draw. "See ya," we both say casually and part ways. Masturbation has no orientation.
I'm 24 years old meeting a married guy my age at his house. We chat, put on some porn, stroke to gay porn, frot our greasy erections and even make out a little. "That was fun man, thanks for coming over while my wife is out of town," he says. No questions asked. Masturbation has no orientation.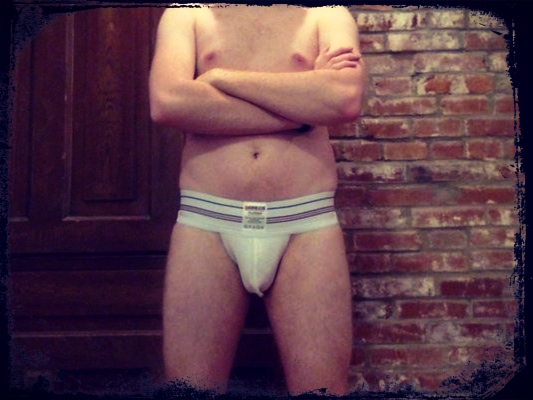 I'm 26 years old, meeting a guy from Grindr after we both identify ourselves as masturbators in a sea of tops and bottoms. We sit side by side on my bed, frying our brains with poppers and gay porn until we both shoot copious amounts of sperm all over ourselves. We lay back exhausted and happy, glistening in sweat. Masturbation has no orientation.
While the label-loving world we live in likes to think that masturbation has an orientation, the common denominator in all of my mutual masturbation experiences has been manhood. Brotherly bonding. Kinship. Mutual understanding. Primal power. Phallic admiration. Never sexual orientation.
That's not to say that sexual orientation doesn't exist or doesn't deserve to be respected and acknowledged. How people choose to identify should always be validated. Rather, it's to say that orientation is not something that men must be concerned with when pursuing mutual masturbation as a sexual activity. For me, bating is an outlet for men of all backgrounds to experience a bond, a kinship and a shared mutual experience that only men (gay, straight, trans, bisexual, nonconforming, queer, anything) can truly appreciate). Regardless of orientation, the power of the bate stands on its own.
On the most primal level, bating with a buddy is just that – masturbating your penis with another man who also has a penis. External factors and identifiers melt away in the face of this penis pleasure. If more men could see this, I think most bators would agree the world would be a better place!
By Bateworld member Titan393
Do you agree? We encourage your thoughts, so please leave your comments below!
You may also be interested in other articles from Masturbation Has No Orientation – From The Bi Side and Masturbation and Marriage Can Go Hand In Hand
Click Here for more  Masturbation Has No Orientation stories.
Not a Premium Bateworld Member? Reap of its benefits by signing up today!
https://www.thebatorblog.com/wp-content/uploads/2018/10/Masturbation-Has-No-Orientation.png
450
810
Staff
/wp-content/uploads/2015/02/batorblog3.png
Staff
2018-11-07 14:17:41
2018-11-16 14:25:47
From The Fluid Side