Let me start by saying, to me, in my everyday life, labels don't exist therefore I choose not to label myself, but for all sake and purposes to bring some clarity to those that may not understand, I am bisexual, two-spirited – I like both men and women.
As you may know, regardless of how you identify, bisexuality has quite the stigma and even more so, surprisingly, within the LGBTQ community – even when B is a part of it. However, that isn't the focus of this article – we'll save that for another time.
This is about life as a bisexual and life as a bator and joining the two in a harmonious dance of pure pleasure.
I'm turned on by both men and women, but typically when it comes to masturbation and bating here on Bateworld, it's the actual bate that fuels me. Sure, I browse porn of all kinds, mostly while chatting with other guys who are doing the same, but what is really going on, what's really turning me on, is the simple act of bating itself and sharing, exposing, and experiencing this with another male (or a female – which I realize is entirely rare if not altogether non-existent online!). This goes beyond sexuality, but for most it's muddy and probably deserves some sort of explanation.
The average person will immediately think you're gay for sharing your bate with another guy, let alone jacking off in person with one another, having a circle jerk, sharing porn, etc. To answer and/or to clarify this to someone in the simplest of forms would be to tell them masturbating with other men is actually no different than going to dinner with your male friends, having a drink, or watching a movie. Hmm, something tells me that comparison wouldn't land very well to someone who asks huh!? LOL! But you get it right? You're a masturbator – it's just an understanding.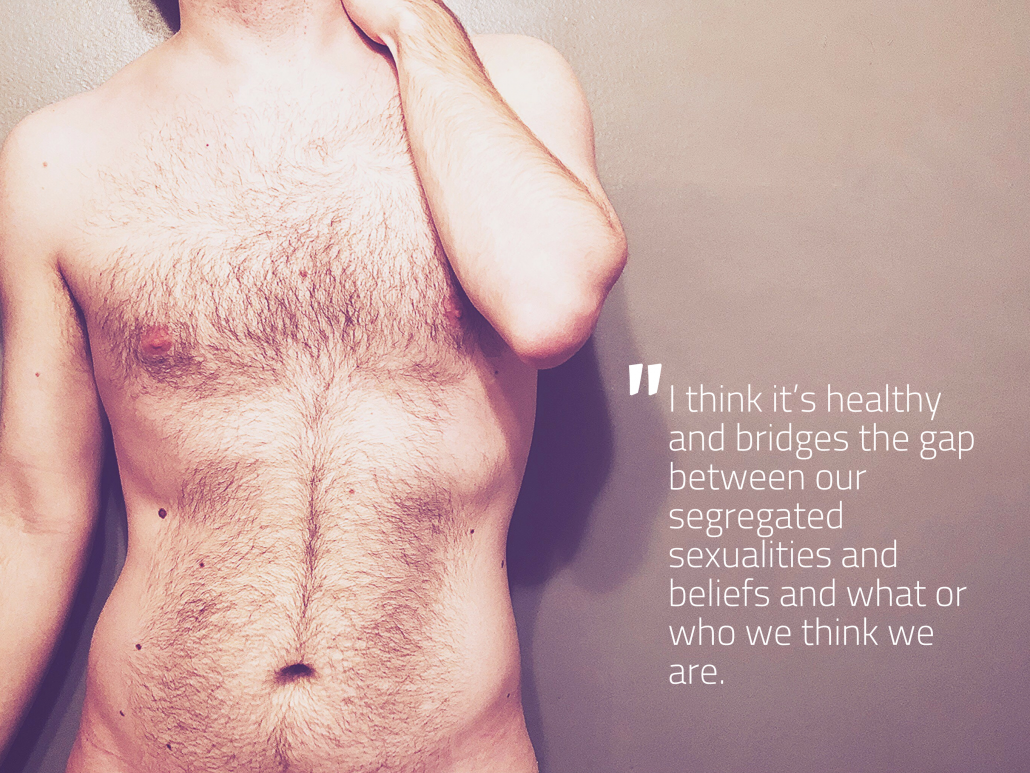 It's about the mutual experience and sharing the intense pleasure together. It's almost as if both worlds (of your bisexuality) are being fulfilled when you meet another like-minded bisexual for a bate. You can talk about men and women, what turns us on, share links and pics, and explore our turn-ons together, but there is a comfortability that only you can understand. Just because you're bi it doesn't mean you want to reach over and beat him off, or even fantasize about it or other things, if it happens it happens. Now, say you're bi and the guy you're bating with is straight – I think it is safe to say that the comfortability level is much the same. Because you identify as bi and like both sexes and your friend is straight and only into women, that is also a formula that particularly adds up to the mere act of enjoying your penises together.
Females probably dominate that scenario – meaning because your buddy is straight you can both share and talk about your female turn-ons. On the flip side, you're also getting to share this with another guy which, again, fulfills the other side of your turn ons. But again – it does NOT pose a "threat" to him – you're not in it to jump his bones per-se. You might just be a little more sexually fulfilled if you will. He probably turns you on which probably turns him on and even though he's having a great time and enjoying your company, deep in the bate, lost in the pleasure, he knows what you desire is also what he desires – masturbating (women, too, of course, that's an added bonus for an even greater time.)
I have my opinions when it comes to sexuality in general and the labels we choose to identify ourselves with as I mentioned above. At the end of the day, bating is bating. In fact, I believe masturbation itself dispels the labels because again it's the mere act of jacking off itself that brings pleasure. A true bator can understand that and that a bator is without sexuality. I think it's healthy and bridges the gap between our segregated sexuality and beliefs and what or who we think we are.
We have our desires, our turn-ons, what really gets us horny, what fulfills us, but it's all outside stimuli which we're all grateful for, of course. I challenge you this: the next time you get bareassed, ready for a nice long bate session, close your eyes, clear your mind, and focus on the pleasure taking place…THAT is what it's all about. Now, if you have a bate bud to do that with together you can share in the bliss, share the experience taking place, encourage, and help take it deeper, further, extending it beyond sexual orientation.
Click Here for more  Masturbation Has No Orientation stories.
Want to share the experience with a fellow bisexual bator? Become a Bateworld PREMIUM MEMBER today!
https://www.thebatorblog.com/wp-content/uploads/2018/10/Masturbation-Has-No-Orientation.png
450
810
Erosinthyme
/wp-content/uploads/2015/02/batorblog3.png
Erosinthyme
2018-10-17 17:22:10
2018-11-16 14:26:20
From The Bi Side