One of the most important lessons my wife and I learned as we were opening up our marriage is that just because I masturbate with guys doesn't mean I love her any less.
In my case, I score a 3.8 on the Klein Sexual Orientation Grid. It measures changes over time, and emotional as well as sexual preferences. For me, what this score means is that while I enjoy having sex with my wife, and love her dearly, I'm somewhat more physically attracted to guys and I thrive on close male bonding. My ideal marriage would be a polyamorous triad with my wife and another bi guy.
My bisexual friend and bate bud, Mark, who is married to a woman and also in an open relationship writes, "Bisexuality is a diverse and complex sexual orientation with many different ways one can be bisexual. Bisexuality is not just a self described identity or sexual orientation, there is also bisexual behavior. In other words, some people identify as gay, lesbian or even straight but are bisexual in their emotional or sexual attractions and behaviors."
Mark gave an example for this article, "Straight and bi guys can enjoy the simple fun of sexual play with their same gender if they let go of societal teachings. A good example is when I had a straight nudist friend over for a hot tub the other day. We got talking and he said he would like me to massage his penis to orgasm and was even happy to exchange it. No discussion whatsoever that he is anything but a straight person, yet there we were." While Marks's nudist friend identifies as straight, his behavior at that time was bi, and there was no discrepancy.
As one BateWorld member who wishes to remain anonymous explains, "When I play with guys it's purely physical, sexual – about getting off. I have zero interest in an emotional attachment or relationship. Just the way I'm wired."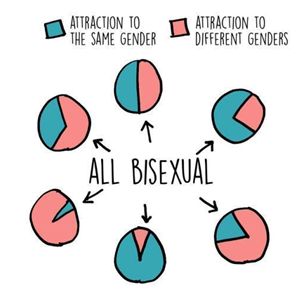 As part of a local Bi+ social group, I've talked with guys who are bi-curious and visiting for the first time. One guy shared that while he is sexually attracted to both men and women, in a relationship he only likes dating women. This can be confusing for a man who is sorting out his sexual attractions along with his emotions. But what makes it confusing, some would argue, is the false binary presented sometimes by both straight and gay culture that says you've got to "pick a side." False, sex-negative religious teachings only add to the pressure and confusion.
Robyn Ochs, who lectures all over the US on bisexuality, puts it this way, "I call myself bisexual because I acknowledge that I have in myself the potential to be attracted – romantically and/or sexually – to people of more than one sex and/or gender, not necessarily at the same time, not necessarily in the same way, and not necessarily to the same degree."
Various forms of bisexuality are becoming more accepted. As reported in "The Advocate," and based on a modified Kinsey survey, "As many as 49 percent of adults [in the UK] aged 18-24 described themselves as 'not 100 percent heterosexual,' indicating bisexuality is more common among younger adults, who enjoy more sexual fluidity." This is an encouraging trend along with other studies that show about half of all millennials are open to non-monogamy. This opens the way for more options of having friends with benefits and J/O buddies throughout our lives, and regardless of the relationship situation we find ourselves in, if we navigate it properly.
As another BateWorld member who also wishes to remain anonymous puts it, "I'm attracted to both men and women sexually but romantically prefer women. But it doesn't mean I haven't had friendly and good relationships with a guy I've had some kind of sex with. Some bi guys want a dick only experience with a guy. I get that. Not really me. There really is a flexible spectrum about sexual identity for some people, and you can't pin it down. It's fluid and situational. And for me, sex with a woman and a man are different experiences completely."
The point here is that the less we misuse labels, and the less anxious we are about sexual experimentation, the more we can enjoy the full range of human sexual experiences available to us. Such experiences can include the pleasure of mutual masturbation with another guy, regardless of how we relate to the opposite, or same, gender at different times. As we express our desires to those we feel safe with, we might be surprised at how many of our buds would enjoy stroking out a load together. I was.
Written by Stefan Jax AKA DoggyBoner on BW
Click Here for more  Masturbation Has No Orientation stories.
Are you a BateWorld Premium Member? Sign up today and share your penis admiration with other men on BW VidChat.
https://www.thebatorblog.com/wp-content/uploads/2018/10/Masturbation-Has-No-Orientation.png
450
810
Stefan Jax
/wp-content/uploads/2015/02/batorblog3.png
Stefan Jax
2018-12-12 17:03:15
2018-12-12 17:03:15
Bi Bators Come In All Flavors