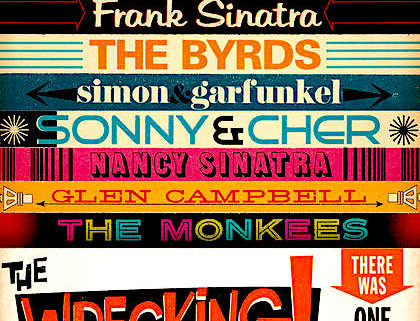 There's a robust library of documentary titles on Netflix right now that music lovers like me (or those who are simply curious) might enjoy. Ranging from live concert footage to detailed visual histories, there's more than enough for any taste.* Here are just a few I've checked out.
*Amazon Prime Video also has an insane selection of music documentaries featuring newer and lesser known artists. I haven't even begun to delve into those yet, but I'm definitely looking forward to it. If you have any suggestions for music docs/concerts from any streaming service or DVD, please feel free to share them in the comments.
_______
Mr. Dynamite: The Rise of James Brown
Directed by Alex Gibney
I've long wondered about James Brown's place in the musical fabric of soul. As a white boy from the white suburbs, I'd never even heard of him until I got to art school. I've heard plenty of his music since then, but haven't delved into his history.
Mr. Dynamite really lays it out beautifully. The editing and content are powerfully wielded to create a dynamic portrait of a man rightfully dubbed The Hardest Working Man In Show Business. Mr. Brown worked his way up from a shoe shiner to become one of the most influential artists of his generation.
He became an icon not just through his personality and showmanship, but for the brilliance of his love of rhythm expressed both musically and through his body. His performance embodied soul, spit out in rhythmic bursts from the horn section as his dancing set the standard.
Mr. Dynamite portrays James Brown getting through the world on his own terms, sometimes with great consequence, but forging ahead against the odds in order to express his love for the music inside.
_______
Barbra: The Music… The Mem'ries… The Magic!
Directed by Barbra Streisand, Jim Gable
Babs' latest live event takes us through her many, many, many, many albums (though I suspect, many many of those songs were cut for length in this concert special).
This is the warmest and simplest Streisand I've seen in years. The bombast is mostly gone, and what's left is a really heartfelt, fun evening of not-overcooked instrumentation and trilling. That she can pull this off at 70-plus years of age is inspiring and definitely awesome. How does a 74-year-old woman sit on stage for an hour straight without a pee break?
The highlight of this concert for me is a duet with Jamie Foxx (damn that man is talented!) singing–can you believe it–Climb Ev'ry Mountain, and I'm still standing applauding it.
SPOILER ALERT:
Beware of the ending sequence. It will make you verklempt. I'm still recovering. While also standing and applauding.
_______
What Happened, Miss Simone?
Directed by Liz Garbus
Chilling, intense, passionate and rebelliously original, Nina Simone's music and life were met always with the same smoldering sorrow. Blessed with a poetic musical gift, her career from classical pianist to outspoken revolutionary artist was a constant struggle for authenticity and artistic independence.
The struggle she couldn't overcome was depression, and living through a time when that disease wasn't easily understood or treated, Nina Simone's story is often heartbreaking. Her music and its message lives on now, and grows more powerful with time. Presented here in live performance footage, recordings, and interviews, there's a sense of hushed, devotional pain and loss throughout. The music is gripping and intense, intimate and angry, authentic and defiantly brilliant.
_______
Nat King Cole: Afraid of the Dark
Directed by Jon Brewer
Nat King Cole was a pioneer who withstood horrible racism to rise to prominence as a household name, headlining his own TV variety series, movies and records.
This slow-moving but affectionate documentary on Cole's life and career is told through interviews with his family, friends and associates. Full of wonderful, sparkling music from the man who was renowned for both his vocal and piano artistry, his suave debonair persona and a voice of the gods.
_______
The Wrecking Crew
Directed by Denny Tedesco
California Dreaming, These Boots Are Made For Walking, La Bamba, Pet Sounds, Be My Baby, Bridge Over Troubled Water. The pop music of my Sixties childhood was overwhelmingly played by a ragtag mixture of California studio musicians later dubbed The Wrecking Crew.
While The Monkees get slammed for not really playing on their records—in fact, neither did hundreds of other acts that relied on session musicians to make them sound professional. The Wrecking Crew was an exhilarating experience for me, to meet the people behind the most iconic riffs and solos of my childhood. I loved discovering that the bass lines from Mission: Impossible and The Beat Goes On were both played by a woman (Carol Kay).
Some of these musicians would go on to big careers (Glenn Campbell, Leon Russell), but most worked relentlessly without recognition or recording credits, sometimes completing an album a day–day after day at different studios around L.A. The boom lasted for about a decade, and then most became struggling musicians once again.
Interviews with Cher, Dick Clark, Herb Alpert, Glen Campbell, Nancy Sinatra, Mickey Dolenz, Leon Russell and Jimmy Webb highlight the importance and contribution of these musicians to the music of the sounds of the Sixties. Directed by the son of legendary guitarist Tommy Tedesco, The Wrecking Crew is a breezy, colorful, beautifully edited documentary filled with familiar hits.
_______
Pentatonix: On My Way Home
Directed by Devin Chanda, Matt Mitchener, James Rothman
The Pentatonix eat, and eat, and eat their way across the world in a fabulous production that takes them everywhere but On Their Way Home. I hope their new money can buy a sense of direction.
If you love love love the Pentatonix and want to spend a long time hanging with them and not hearing their music as they self-congratulate each other, and then eat eat eat some more, then this is the documentary for you!
_______
Hip-Hop Evolution
Created by Darby Wheeler, Scot McFayden, Dam Dunn
An excellent four-part series showcasing the origins of hip-hop, this lively documentary includes interviews with legendary musicians, artists, and producers who changed the landscape of popular music forever. Exceptionally enjoyable, informative, with great editing and a real sense of the spirit of the times.
_______
Chasing Trane
Directed by John Scheinfeld
Denzel Washington speaks the words of John Coltrane in this collection of interviews, performance footage and the written word creating a portrait of a complex man and his complex music. Throughout, the music of Coltrane's saxophone bounces with genius, described by his peers, associates, music scholars, and Bill Clinton. Fascinating, absorbing, and rich with details about the man's extraordinary contribution to music.
_______
Gaga: Five Foot Two
Directed by Chris Moukarbel
Oh, what those five feet can do! Lady Gaga proves that she's a force of nature as she prepares for her half-time Superbowl show. A single day of this woman's life is exhausting to watch, especially as she struggles with horrendous pain that would make most people say "Maybe today I won't jump off the roof of the stadium." But not Gaga. Revealing, shocking, surprising, and intimate, this is Gaga breaking through her superstar persona and outrageous costumes to showcase her vulnerable, human side.
https://www.thebatorblog.com/wp-content/uploads/2017/12/WRECKINGCREWPOSTER1200x630bb.jpg
630
420
Hiri David Feign
/wp-content/uploads/2015/02/batorblog3.png
Hiri David Feign
2017-12-21 10:20:46
2017-12-28 20:26:21
A HANDFUL OF MUSIC (TO WATCH)