Being an open solosexual is something M.B. Timothy (Saboteur on Bateworld) knows well and celebrates the relationship he has with himself proudly. Timothy has been published on The Bator Blog where he wrote the popular articles, The Truth About Male Orgasm Parts One and Two. His blog No Love Like Solo Love is dedicated to masturbation and body pride. He has been called a Guru of Technique and an Evangelist of Self Love.
Timothy's book CEDAR: An Ode To Masturbation, available now on Amazon, is a sensual celebration of solosexuality through fact and fiction, in two parts. Part One pieces together the author's sexuality through fragments of memory and dogma. Below is an excerpt.
---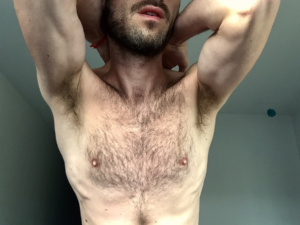 I will never accept that being solosexual is the same as being alone. To accept I am solosexual is not akin to accepting a life of solitude. Being solosexual means I derive sexual pleasure from myself. My hand, my penis. My orgasm by my hand. My ejaculation by my hand. It does not mean I get everything from myself. My brothers and sisters are my life. My bator brothers are my people. I will stand with you always. Stand with me. To be solosexual is to say I revel in the sexuality of my body. I desire my body. To have a penis is to bear witness to an erection. An erection is the epicentre of my pleasure. Male pleasure has been for too long equated as ejaculatory. My manifesto is that male pleasure is dry. Male pleasure is the erection itself. The sight of it. The power of it. The stiffness of it in my hand. An erect male penis is heavy and beautiful. As I rub it, the pleasure it produces is worshipped. The way it pulses and stiffens as I pound it. The build of it. The tightening within. The promise. The slow secretion of viscous liquid. I will love it. I will love my penis. I will bring myself powerfully, frequently, sensually, lovingly to the point of no return but I MUST ALWAYS withhold ejaculation at first. To masturbate over the point of no return in one action is a waste. It is on that tipping point that the promise and delivery of pleasure itself is mixed in one sensation. On that point is the male orgasm, which is NOT ejaculatory. A male orgasm need not be wet. I will love myself and give myself dry orgasms every day. Over and over. I will remember the truth that I have had dry orgasms longer than I have had wet ones. I will be frequent with the gift I give myself. Only after I have orgasmed to a satisfactory amount, an amount only the particular day, my penis, my yearning will dictate to me, will I allow myself to go to the wet phase of ejaculation. Ejaculation of semen is a uniquely male phenomenon. To ejaculate is to become a man. Sperm shot from a penis is an external manifestation of male pleasure and sexuality. Only by loving myself longer and more frequently… Only by separating dry and wet orgasm through edging… Only by honouring my penis with sustained masturbation will my ejaculations achieve the epitome of the pleasure and power I am capable of. An edged man will shoot more sperm. An edged man will stay harder longer and his erections will be more virile. An edged man becomes the best version of his sexual self. My penis is hard. My hand is gripping my penis. As a masturbator, as a solosexual, I am honouring my gift. I am an edged man. I will stay an edged man. I will always be an edged man. This is what I believe.
---
I recall as I write these words the day I decided to live my truth, so to speak. It was the day I planted the flag in the soil and admitted, at least to me, that I am a solosexual. I say "live my truth" as if my being solosexual was always there, but obscured, like a palimpsest on the wall revealed only by cleaning. I have had a lifetime of layering over what was my innate nature. It was a day when I saw Julian Rosefeldt's show, called Manifesto, at the Australian Centre for the Moving Image in Melbourne. In it Cate Blanchett appears in a 13-film installation celebrating the Manifestos of art and politics through history. She rants and raves in robotic delivery the lingo of the dogmatic. My words above pummel like some evangelist of masturbation. Language is eroticised and reclaimed by the masturbator. My penis gets hard when I write in bate speak for it excites me to connect with my brother, the masturbator, through words we have created for ourselves. Words like Gooner. Bator. Popperbator. Monkeybator. Batespread. Goontard. Batefuel. Masturbragging. Fuckturbator. But if I am not careful I can depart easily into the bate zone where all men's penises are erect and autonomously pleasured by hand. I can get lost there, as Narcissus was lost peering into the pool of his own reflection, and I do not wish to be lost just now. Instead I grab my thoughts by the scruff of the neck and return to the day I declared my solosexuality to myself.
I am unsurprised that after seeing Rosefeldt's show I went home and wrote a Manifesto of my own. I had decided on that day to be solosexual. That means what it means, of course – I have sex with myself – but it meant acknowledging I had no problem with the shadow of solosexuality, an unsettling byproduct all solosexuals must face: that of being alone. When I went into the show I was intimidated by the possibility of a lonely life. I was just a few months out of a nine-year relationship and I knew I may be alone a long time, if not for the rest of my life. I felt adrift, like a small piece of wood on the ocean. The show, Manifesto, helped me tremendously. I saw that I too had a voice, even if spoken from the margins. I too had beliefs, even if they were at odds with the accepted norms.
I am not one to be out of control. I am an edged man. Edging is about control. Just as I can control my orgasm to the millisecond, I can control my life. This is why I feel safe to confront the shadow. Being alone and being lonely are not the same. Being alone can be my goal, in the same vein as how Jung said to make death your goal can sharpen the intensity of your life. At the end of the day, when I get into bed, I am alone and I touch my own body. In this way my aloneness is flipped to become comforting in and of itself. At night I feel my hands on my body. The way I touch myself in the night is a most satisfying intimacy. I wake up gently caressing my hairy chest as a lover might. In the morning, my stiff penis begs for me to satiate it. My sheets bear the dried, crackling evidence of a lot of sex.
I stink easily – like a sweaty boar – because my nervous system activates when I am aroused. I spend so much of my day in arousal. My underarms drip with sweat. I feel it run down my sides, a cool droplet cutting a path through heat. These drops sizzle and burn away as male musk wafts from the sensual garden of my pits.
There are not many proclaimed solosexuals in the world, and so we teach ourselves how to be. We must share. We are never given tips to live as a solosexual. On the contrary, we are raised with the exaltation of partnering and pair-bonding. Society works very hard against us. If we are not pair-bonded, society will have us blame ourselves for some lack. Society actively profits from you not liking yourself. To be a masturbator is therefore defiant. Being solosexual is radical. It deserves its own dogma and I am prepared to spout off about it.
https://www.thebatorblog.com/wp-content/uploads/2018/08/IMG_6197-1.jpg
1007
898
COACH
/wp-content/uploads/2015/02/batorblog3.png
COACH
2018-08-30 10:15:19
2018-08-30 12:29:05
Living As A Solosexual: A Manifesto