After returning home from the first Cock Summit in April 2017, I wrote about my experience, which remained on my profile page for several months. Even now, after having moved them to the "blog" tab, I still receive questions about my experience. I do not work for BateWorld or the organizers of Cock Summit, but I have attended all four events and am an enthusiastic supporter. I am proud to share my experiences, tell you a bit about myself, and encourage you to attend a Cock Summit if you can.
YES, COCK SUMMIT IS FOR YOU!
The most common inquiries are general in nature: "What goes on there?" "Where do you sleep?" "What is the space like?"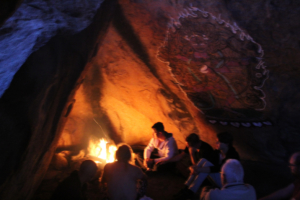 Answers to these questions are effectively answered at the event's website. After these initial questions about logistics are answered, other important questions asked are, "Who goes to this thing?" and "What kind of guys attend?" Sometimes Bators have very specific questions, such as "How old are the guys who attend?" "Is Cock Summit only for gay guys?" "Does everyone there have a big dick?"
I wondered if the men asking were looking for some fantasy bate fuel, picturing 50 Adonis-level porn stars lost in a pile of cum-drenched bate bliss. While I respect understand those inquiries, I later came to understand that these questions were not about bate fuel, but more about addressing a nearly universal insecurity: "If I go … will I fit in?"
In short – YES. You will fit in. Cock Summit is for all Bators who enjoy bonding with their cocks. There is a place for everyone who meets that description. If that's you, you will fit in, and you will be among like-minded friends.
Truth be told, I was hesitant about Cock Summit at first. In fact, I nearly backed out from attending my first one, which I'll write about in another post. I was intimidated by the potential for what might happen there, and while part of me was incredibly interested in the event, another part was frozen. I can now testify that attending was one of the best decisions I ever made, and I owe it in large part to a fellow Bator who simply needed a ride from the airport. For me, Cock Summit goes beyond being a Bator and loving my cock; It includes the camaraderie of sharing the experience with others and connecting with myself.
WHAT IS THE AGE RANGE OF ATTENDEES?
I have shared this experience with young men in their early 20s, a seasoned Bator in his 80s, and everyone in between. I am proud to know both and admire the courage they found to expose and share their experiences with me and the rest of those who attended. I would not have been brave enough to participate in Cock Summit when I was 20 … but my goal is to still be attending at 80.
As for me, I'm 44. Age is simply a non-issue at Cock Summit; we simply do not care how old or young or middle-aged you are. We only care that you have come to join us.
IS EVERYBODY AT COCK SUMMIT GAY?
No, not everybody is gay – but everyone is accepting, no matter his sexual orientation. The men who attend Cock Summit fall on all levels of the sexuality spectrum. Some Bators are married to women, some are married to men, some bring their male partners and friends, others are proud and single solosexuals at heart. This event is not about labels. It is about accepting who we are, feeling good, connecting with other like-minded Bators, and celebrating what makes us men.
My own profile on BW shows "straight" (more about that some other time). I have made long-lasting and enduring connections with other men who like to bate, no matter if they are gay, straight, bi, questioning, or self-identify in some other way. We share a commonality that transcends sexuality. Cock Summit is one of the only events I can think of where I can say that without qualification.
I'M NOT WHAT YOU'D CALL A FITNESS MODEL
Is everyone at Cock Summit fit, with six-pack abs and a big dick? Sorry to dash the traditional porn fantasy, Brothers – we are not all Men's Fitness models. We are pretty regular guys. Some of us have defined abs; some, like me, do not. Some of us are pretty big dudes. Short, tall, black, white, gay, straight, big, small; we come in all shapes and sizes… that goes for our penises, too. But whether or not you find yourself saying "wow, that's huge," our shapes and sizes are simply non-issues at Summit. We come together as men, proud of our diversity.
Me? I've been told I'm a good looking guy, but you're certainly not going to find me on the cover of Men's Health. I'd rather get my cardio other ways. I try to masturbate a few miles every day.
HOW DO WE ALL COME TOGETHER AS MEN? (PUN INTENDED)
All of us at Cock Summit proudly identify as men. Our leader, Jallen, focuses deeply on inclusion and respect for our unique personalities and emotions. He guides us through the weekend with group activities designed to help us come together and open up with one another. As we do so, our own unique personalities emerge. Some of us have exhibitionist inclinations, and will expose our masculinity without any inhibitions. Some of us are more inclined toward modesty and discretion. Some us just need the ice to break in our Bator minds. Whether you fall into these categories or an entirely different one, you will find a supportive, masculine network at Cock Summit.
I think it is important to note, that there is no expectation or requirement that anyone participate in these group activities. I'm not a big fan of yoga, so I don't join in when yoga is offered. But the hiking and bonfire and bonding in the grotto? I'm there. We're all encouraged to find what appeals to us, and there is something for everyone.
I CAN STAY HOME AND BATE ALL WEEKEND BY MYSELF OR WITH SOME BATE BROS. WHY PAY MONEY TO DO IT WITH STRANGERS?
As I've attempted to describe, Cock Summit is not just a group of men masturbating together – yes, it includes that, but it is so much more. It is a safe, non-judgmental group of like-minded men. And Cock Summit will offer you the opportunity for experiences you can't get in your living room or over a webcam.
At one Cock Summit, a couple of guys showed up thinking it was going to be one big jack off party. And, of course, it could have been, if that's all they had wanted it to be. But these guys were good sports and took the opportunity to bond and develop friendships with us. They were able to be wild when they wanted, but they also found value and camaraderie in the group activities.
I would also comment that, in my experience, when participants commit to an event like Cock Summit, make travel arrangements to get there, and pay the money to go, they're less likely to flake on the event. Here, there's a committed group of men who are invested and excited to meet you. Come join us.
Gentlemen… the most important thing I want to convey is that no matter how different you think you might be, common ground can be found in the company of good men – with our cocks out.
Bate on brothers…. See you at Summit 5.
Author known as Str8Shooter on Bateworld.
Click here for more info and to sign up for Cock Summit 2019 May 10-12, San Diego, CA.
See who's going! Become a Bateworld PREMIUM MEMBER today!

https://www.thebatorblog.com/wp-content/uploads/2018/04/comes-the-sun.jpg
557
1200
Str8Shooter
/wp-content/uploads/2015/02/batorblog3.png
Str8Shooter
2019-03-20 14:32:30
2019-03-31 19:26:04
Journey To The Cock Summit