Sexperiential Lessons by Dr. Jallen Rix (hand2rod)
I am lying naked on my back under the sun. It's the first day of Spring that I can really call hot, and I just couldn't take another stressful afternoon of city life. So I drove out of town, along with our local river to a dirt parking lot off the highway. From here, a path leads to a nude beach. I leave my car alone in the lot, and I walk into the woods towards the river. Since I'm the only one here, I lay an old bed sheet in a prime location, on a sandy spot just a few feet from the rushing water.
Although the stream is not huge, it is at its peak with snowmelt. Frigid and swift means I am not getting in, but that's not so much why I am here. To shed all the frustration of work, to drop all the defenses I carry all day, and all the time, to rebel from all the conformity my family and friends all too often expect of me, I shed my layers, every stitch of my clothing and fall cock up, spread-eagle on the ground. I can't recall the last time I got a few hours to be exactly who I am, and it helps to be naked.
For me, nudity is a clear and conscious choice to be myself. It's just me without any subterfuge. I suppose nudity doesn't guarantee a person to be 100-percent honest, but it certainly helps me feels like I have nothing to hide, and that feels good. Here I am. That is all.
Further is that cleansing feeling of being naked out in nature, with the trees framing the bright sun above me and the ever present roar of the river filling my ears. I take in the fresh water-rinsed air filling my lungs and filling every part of my body. I feel the cool and solid ground below me. To have my whole, naked being so directly connected to nature reminds me I am part of something bigger than my all-important schedule and projects and earnings. None of those "necessities" can out do the simple experience of woodsy nakedness that gives me courage, confidence, and strength.
It also gives me a raging hard-on. I glance around to be sure I am still alone (not that others who populate this particular beach would necessarily mind), and I wrap my hand around my stiff rod. I cradle it at first as my awareness and senses begin to heighten, noting everything around me — birds singing, bugs dancing on the water. It's like a Disney cartoon crossed with 70s hippie porn. As I stroke harder and my breathing becomes profound, my sex aligns with the symphony of sexual activity that connects to life around the world— an ongoing buzz. Civilization is just so skilled to tune all this beauty out; I wonder what's so civilized about that?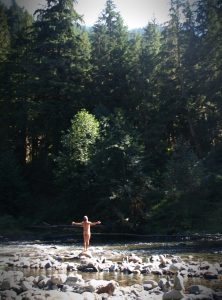 I start to stand up but halt, seeing a guy watching me from across the river. Similar to me, he's standing in a bit of a clearing. Awkwardly I change my stance and roll over onto my belly feeling stupid about the movement (like when I trip and kind of start to jog, pretending I had planned it all along, to no one's belief). I lay there for a moment with my arms cuddled up under my chest. Why did I stop? He evidently isn't upset by my display. I think he might have even a smile on his face. Oh! This is a turning point for me. Usually, I'd just slink away, but there's no reason why I can't pick up where I just left off. I glance over my shoulder in time to watch him luxuriously pull his t-shirt up over his head to expose a beautiful hairy chest. "Oh, my…" I think out loud. Without hesitation, he grabs a big wad of his jeans to show off his basket.
My head swivels back around with a grin, and my feet involuntarily kick with delight. Before I give it much thought, I roll onto my back again. My dick has gone semi-soft, but with my legs and arms outstretched, I connect back to the ever-present and eager world of nature. More and more I am tapping into some great and secret magical power. I fill my lungs again, and my cock inflates till it points to the sky. I peep out of one eye to see that he is standing completely naked now and stroking his cock as well.
Not only am I connecting with the primal nature of the planet, but I am also going to share it with a hot man and show it off as a super power. I maneuver up onto my knees all the while my cock points upwards as if the sun has it on a string. I slowly stroke the length of my shaft, over my balls with the tips of my fingers almost touching my anus. Up and down. My hands feeding my powerful pleasure. My thighs and calves flexing as I raise my butt off my heels. I watch the handsome stranger, his legs broad and solid planted into the ground. His cock is also hooked by the sun. His hands at times wander affectionately over his body and then at other times his hand's focus, pumping up the power of his phallus.
It's one thing to get naked in nature. It's one thing to masturbate out in nature with the arousing risk that I could get caught. It's all the better to share the experience—to be seen by another man, naked, hard, and inciting it. Further, having him out of reach (much like being on cam), there's no deciding who's going to do what? Who's going to ask for what activity? Do we need to have the STIs talk? All he does is enjoy what I'm doing and vice versa. I feel totally and totally encouraged to show more of me (which feels pretty rare these days). I feel less alone. I feel affirmed, empowered, connected, masculine, and transcendent. I am being pushed on because he wants to watch me make myself feel as good as possible, and I want the same for him (why is this so easily lost in an ongoing relationship?). Between the three of us (me, him, and Mother Nature), it's like an emotional equation that keeps exponentially multiplying higher and higher.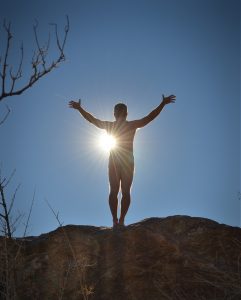 Suddenly I hear him actually growl as he steps forward to the water's edge. In the hot sun, his hairy body is slick with sweat. He's so uninhibited, he continues his roar even over the noise of the river, and why not? He voices his orgasm unrestrained, half as a growl and half as a primal call of the wild, like an instinctual carnivore capturing and killing his prey. His head kicks back, and sparkling streams of semen flash out of his cock, over the water, and are gone.
Of course, his climax triggers mine, and although I don't typically make a lot of noise, there is no reason to hold back. He hears my cries of ecstasy, and they are an appropriate response to his call. I don't think I growl, per say, but truthfully I am so lost in the pleasure I really don't know what I sound like, nor do I care. I am exploding with pure pleasure, and my vocalizing is just as pure. My whole body heaves several times as cum arches out and splats on the sand in front of me. I sense the Nature Goddess is pleased to receive both our offerings. I crumple to the ground panting, laughing, and giving my pumped up legs a rest.
The handsome stranger breaks out a broad smile and raises both flexed arms into the air as if we just won a marathon. I nod back a genuine smile of gratitude. He puts his clothes on, and he is gone. I am so content in the accepting arms of nature that surrounds me. I drift in and out of sleep for a long while. When I am fully awake, I am clear, recharged, and confident. I'm entertained by the idea that the experience was so perfect that it could have been a dream. I certainly will return to this spot and see what other dreams can be conjured.
Dr. Rix invites you to join 30+ other guys at Bateworld's Cock Summit: Face-to-face bating in warm SoCal weather. September 15 – 17, 2017, http://cometrueproductions.com/csummit/
https://www.thebatorblog.com/wp-content/uploads/2017/08/under-a-waterfall.jpg
500
1500
Jallen Rix
/wp-content/uploads/2015/02/batorblog3.png
Jallen Rix
2017-08-11 16:26:01
2018-05-18 16:40:51
The Glories of Bating Outdoors