Feminine Phallus
Sex-periential lessons from a bating Sexologist, Dr. Jallen Rix (hand2rod)
It's summer! The California heat is on and I am lifting my naked body out of a Sierra mountain river on to a large flat rock. I stand tall and drenched in the sunlight. The combination of cold and hot is like eating salty and sweet at the same time, but all over my body and I delight in the constant variety. I notice some clothed people watching who have just arrived, and they might be taken aback. Although this location has been a nude sanctuary for decades, it is not exempt from the rise in population (the world human number has doubled since the 70's), not to mention the rise in body shame. For most people, it's just too easy to conform to the status quo of clothing than to experience the deeply healing pleasures of the sun all over their skin or water caressing their bodies without obstruction.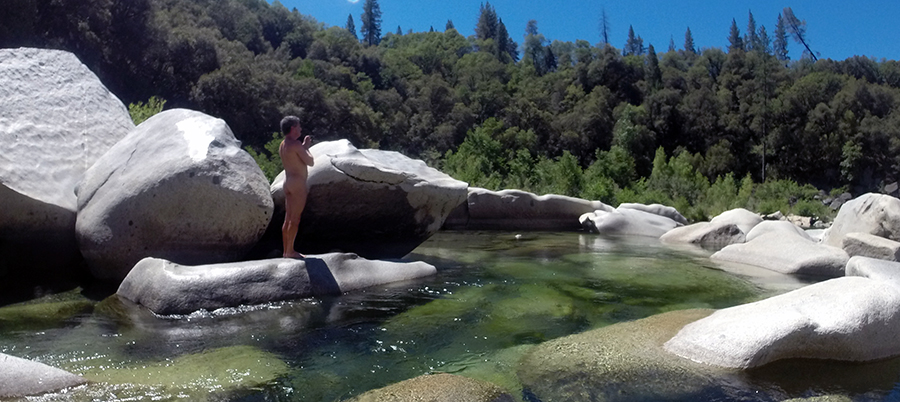 I can't help but feel their eyes on me, as if I can hear their brains thinking even from across the river, "OMG! That guy is naked. Why is he naked? That's gross. Is that gross? Do I have to get naked to be here? Should I find another spot?" Ultimately, I imagine them being sort of envious of my courage to show off my fit body. Despite my age and my growing belly, I've worked hard to keep my body in shape. I feel very little body shame, which translates into a strong, positive vulnerability.
However, as I take a seat on the rock, I notice my penis. The cold water has shrunken it to the size of an acorn. Indeed, it seems about as small as I have ever seen it and it strikes at my masculinity as well as my self-esteem. Regardless of how good I might feel about my body, that all familiar feeling of never being good enough drops the bottom out of my stomach. All it takes is a cool breeze at a nude beach and my rod nearly disappears and it drives me to distraction. The critic in me seems to have an endless litany of what others might be thinking. Maybe the people were staring because they can't believe I have such a small dick. They probably thought, "If I had a dick that small, I'd never show it in public…."
Yes, even a sexologist can have sexual insecurities. How can it be avoided in a sex-negative society such as ours? For the most part, I'm pretty square with my dick. When erect, it maxes out around 5 inches, which is just short of the national average (as best we can determine the average). I've always liked being a smaller-in-stature guy, and I decided a long time ago that my dick reflects that, too. It tends to fit nicely into tight places in which a lot of others cannot squeeze. It has given me hours and decades of pleasure and fun. It's earned the title "Mr. Happy" for as long as I can remember. It is a constant companion, and despite cock stigma, when I listen carefully, my phallus has a lot of great insights, especially in settings like this where it is free to roam.
Case in point, just about the time I was ready to curl up and hide from the negative judgements, this "acorn" reminded me of someone from whom I have been enjoying a huge amount of pleasure. He's an erotic performer on Chaturbate.com named "TripleXTransManXXX." If you don't already know, Chaturbate is an "amateur" sex site where people can sit before their online cameras and have sex, allowing anyone who tunes into their channel to enjoy their "show." It's got pages filled with women, right next to pages of men, couples, trans, and so on…. Some people have full-on sex in front of their cameras, while most of the performers are simply and wonderfully self-pleasuring for anyone to see. Hence the name:"chat"-"urbate" as in "chat" +"masturbate.""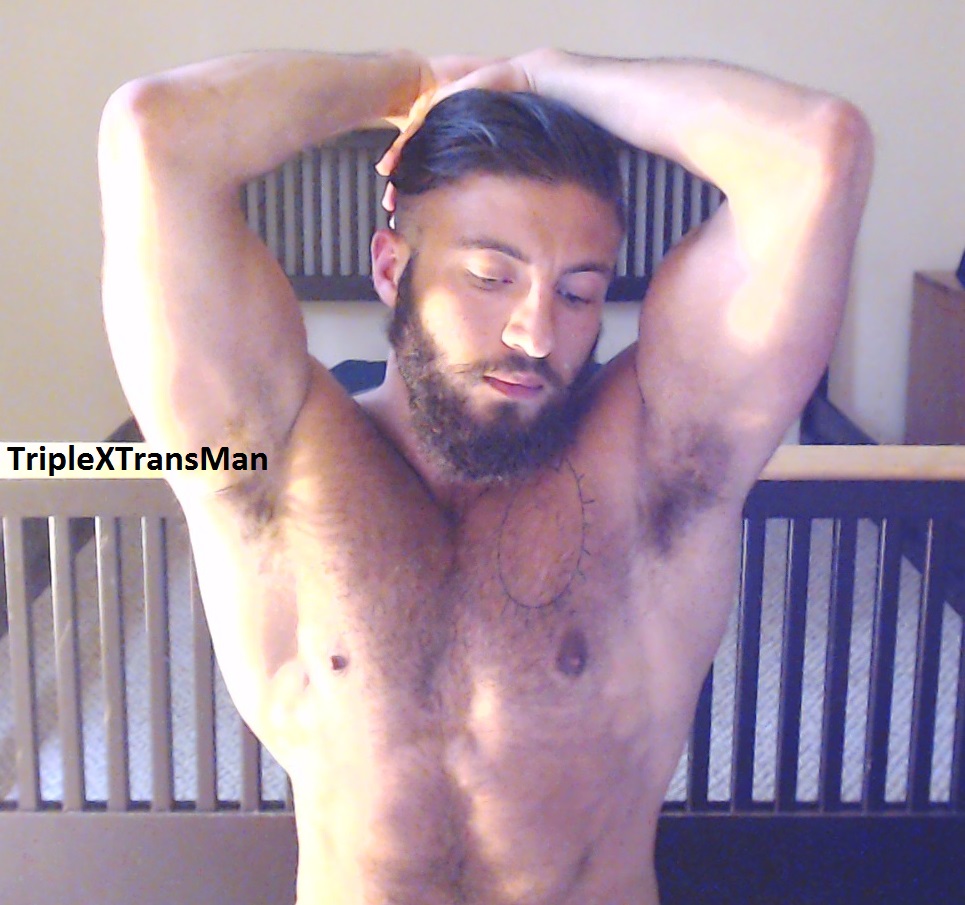 I was viewing the men's page a couple of years ago when I landed on this hot guy — broad chested, muscly, hairy, having a nasty fun time interacting with his many followers who electronically tossed him tips. Then I realized: I didn't see a dick…anywhere. Quickly reading his bio, I learned TXXX was a female-to-male transgender person. With hormone treatments, his clitoris had grown some to about the size of a beautiful acorn. He viewed himself as male and therefore, he called that part of his body a dick — made perfect sense to me. I was suddenly faced with a choice: was I going to shut myself off from watching a really hot time simply because of his dick size? Hell, no! He has become one of my favorite guys to watch on Chaturbate because he's sexy, he is uniquely himself, and he sure ain't quiet when he orgasms! Yes please!
Snap back to the river: I realize just how much a sexual role model TXXX has become for me. The insight I'm reliving more deeply is that I am still finding ways that I define my sexuality too often by the size of a dick, especially my own when I'm self-judging. Why do I still use such silly excuses like comparison or exclusion to deprive myself pleasure and simply make me feel miserable? TXXX reminds me that a person can be hot and sexy with whatever they've got between their legs — of course! My dick can be the size of a large clitoris and still have a blast. I'm sure that any clitoris owner who is reading this blog right now is saying out loud, "Well, duh… No shit, Sherlock!" Need I remind us that all of our cocks started out as clits in the womb? It's just another personal revelation of how I can limit my pleasure by the negative beliefs I impose on my sex and body.
Therefore, I am changing up my idea of sexiness to include, not just a huge schlong, but a soft, just-out-of-water penis, too. Maybe "Ms. Happy" is just reflecting her feminine side. If we can bend over backwards to make ourselves feel miserable about our bodies, using perfectionism, unhealthy diets, religious condemnation, unrealistic comparisons, and on and on…then I am going to bend my beliefs about my body and my dick size to make me feel great and confident and strong and sexy. And that's nothing to hide.
++++
For July 2018, Dr. Rix will be in New York City seeing clients and facilitating workshops on the subject of "Courageous Body Positivity" and "Men's Sacred Self-pleasuring Circles." Check it out: http://doctorrix.com/nyc2018/
https://www.thebatorblog.com/wp-content/uploads/2018/07/Picture-184-3.jpg
905
965
Jallen Rix
/wp-content/uploads/2015/02/batorblog3.png
Jallen Rix
2018-07-06 16:34:09
2018-07-10 20:40:48
Feminine Phallus