There are countless lubes out there — and, of course, the option of none at all — to bring your bate from fun to fantastic.
I discovered coconut oil as a bate aid through a friend I met here in NYC. He used it at a bate party with 8 brothers, in the dead of winter, and I only had to dip my hand in once to use it for three hours of bating bliss.
It was an incredible and eye-opening experience, so I started exploring more. Now, you could say, I am a nuts for coconut oil.
Here are some of my own thoughts on why I've found it ideal for my dong. Feel free to share your own thoughts or other preferences in the comments. Should I review something else? Let me know … you guys know I'm always happy to try something new when it comes to the bate.
Long-Lasting Feel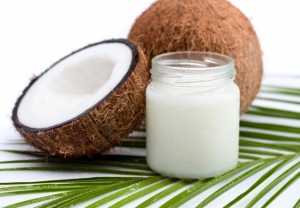 I had used a water-based lube for years, because it was a trusted brand and didn't stain my sheets. However, I found myself dumping huge amounts of lube into my hand to get full coverage over my head, shaft and balls.
What's more, after 5 – 10 minutes, I would need to reapply, because I found it would start to get dry and uncomfortable with friction. This was especially the case when I was unshaven, with hair on my balls and high up my shaft — ouch!
There is a case for water-based lube, of course; for some it's an allergen preference, and others like the spit that helps keep the slick going. (Which, yes, is very fun.)
However, I've found coconut oil to last much longer — upwards of an hour or more. This allows me to lube up and truly get into my bate, without wondering how long the lube will last or waiting for it to give out.
If it does start to dry up, a quick grab of the stuff (less than a tablespoon) will do the trick to keep you going. I've used coconut oil for solo bates, mutual bates, toys and cock pumps, all with great success.
Great for Travel
There is a discretion aspect to coconut oil that is not only convenient … but also super hot.
I travel often for work, and if I am unable to or don't want to pack lube for myself, coconut oil is incredibly easy to find wherever you end up.
Find any natural food market or bodega with oil options, and you're bound to find the stuff. There was a time where every week I would stop by a Whole Foods for lunch and get a small individualized package of coconut oil they sold next to the gums and chocolates in the checkout aisle. Bator hack — you get fed, and get your supplies for your post-lunch bate!
Ease of Cleanliness
One of the best benefits of coconut oil is the cleanliness factor.
Similar to my original interest in water-based lube, it does not stain clothes, bedsheets or towels. This is a huge factor when it comes to easier clean-up right afterward, but also great for laundry efficiency and, if you need it, discretion within your household.
What's more, it's easy to clean up from other surfaces — such as, say, your computer keyboard when typing up blog posts on bateworld.
Happy bating, brothers.
https://www.thebatorblog.com/wp-content/uploads/2018/07/MasturbationTech01.jpg
549
900
bigtallnyc
/wp-content/uploads/2015/02/batorblog3.png
bigtallnyc
2018-10-08 15:24:06
2019-03-31 19:35:56
Why You Should Use Coconut Oil