No. That's the simple answer to a rather thorny issue among human males.
QUESTION: I get great comments on my dick pix here on Bateworld. When I cam, guys say nice things too. Only I'm convinced my cock is actually too small. I know it has a nice big head, but it's not all that much longer than my hand is wide. Don't you think it's too small?
RESPONSE: No. That's the simple answer to a rather thorny issue among human males. Guys do, often, care a lot about penis size—only it's not so clear that this is helpful to their self-esteem, self-image, confidence. Many otherwise brilliant, great-looking, handsome and charming fellows have this one particular blind-spot: they imagine that their penis is too small. Guys with really small and really large penises are not so common as the majority of us somewhere in the middle range of proportions.
Anyway, it's never a good idea to compare yourself with anyone else, and this goes way beyond penis size. Your personal freedom and power to make clear, good choices connects directly with your capacity to love yourself unconditionally. Of course, years ago I used to believe that unconditional love might not be possible at all for human beings. Now I know that unconditional Love is the only kind of Love that is actually Love. If you put conditions on it' it's something else, like attachment, stars in your eyes, or a desire to possess and control.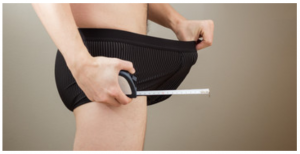 Certainly to judge yourself based upon your appearance, or comparing yourself to other people, is not wise or helpful. Neither is questioning your own value or worthiness, especially based on what you think others think of you. You never actually know what others think of you, and that is something you should never consider in relation to your self-image. Who you truly are, the one that comes from the core of your being is the "self" you believe yourself to be. Even that is not actually the complex mystery of your innermost being.
When people ask me the size of my penis, I tell them it is never the same size twice. Consider that most elastic and changeable, constantly dimension-cycling organ of the human male member: observed on the cellular, molecular and atomic levels it is forever in a process of transformation. If you can observe your penis so closely, in such detail, doubtless most often parts of it expand, while other portions may actually shrink. It's not a simple either/or matter.
Of course, any fellow who has photographed himself naked and masturbating learns, when you place the camera down between your legs, it will optimize the apparent size of your natural endowment. Human males put a lot of stock in the importance and significance of their phallic endowment. Most important of all, is to love your penis in all of its conditions from totally flaccid, even somewhat withdrawn into the body by cold, or in full expansion of ongoing erectile stimulation, or literally relaxed and expanded by the hot water of a heated shower or bath.
Still, men often do this—compare themselves with other and judge their own endowment—which proves quite destructive of a fellow's happiness. Love yourself unconditionally, the only kind of Love that is actually Love. Love your penis unconditionally. Then you are set with a great and fact-based basis for good self-esteem.
You are a good person, you are loved, and to be alive is a remarkable gift—plus your penis is perfect.
BRUCE P. GRETHER is the "BateMaster". Mr. Grether's lifelong love of penises and masturbation has led him to achieve a level of mastery and understanding of masturbation that is at once unique and extremely rare. He is renowned for both his ability to achieve seemingly endless states of prolonged and intense masturbatory pleasure as well as his skill in passing this knowledge on to his students. Mr. Grether has made it his life's mission to encourage men to take their practice of masturbation to new levels of personal enrichment and self-discovery.
Mr. Grether is a globally recognized masturbation activist, an accomplished masturbation coach, and a tireless facilitator of masturbation workshops. In 2001 he coined the now popular term "Mindful Masturbation". He is the author of a best-selling book, The Secret of the Golden Phallus, plus the erotic fantasy novels
The Moontusk Chronicles. His website can be found at www.eroticengineering.com.
A note from The Batemaster: I'm honored that the guys at Bateworld have asked me to respond to some questions from male masturbators around the world every week.
Always check with your doctor about any issues you might be experiencing with your sexual organs. Prompt diagnosis and treatment are important. This article's purpose is to inform and entertain readers and is not a substitute for medical advice or treatment.<
https://www.thebatorblog.com/wp-content/uploads/2018/09/ASK-THE-BATEMASTER.png
450
810
The Batemaster (Bruce P. Grether)
/wp-content/uploads/2015/02/batorblog3.png
The Batemaster (Bruce P. Grether)
2018-12-28 11:45:58
2019-01-02 13:22:41
Ask The Batemaster: Penis Size—Again?