Only you can determine how much masturbation might be enough for you.
"Predictably, Porn Raises Its Head!"
QUESTION: I really love to stroke to porn. I do it every day, sometimes for hours. Can't seem to stop once I'm in that bate hole. Am I chronic? Am I totally addicted? Is this bad?
RESPONSE: Only you can determine how much masturbation might be enough for you. As for the belief that you might masturbate too much, plenty of masturbation is far better for you in every way than the alternative, which is to not masturbate enough for health and sanity. Despite the fraudulent historical belief that masturbation might harm you, in fact it's most definitely good for you. Self-pleasure is a major part of good health and well-being, along with hydration, good diet, exercise, and sufficient sleep of good quality.
Porn can serve as wonderful erotic fuel for the bate; at the same time, it's a healthy alternative to also masturbate while you simply regarding your practice in a mirror. Masturbate sometimes while simply paying full attention to your own body and your own sensations, without fantasy or erotic images, focused immediately and directly on you.
In fact, porn is far more effective as erotic fuel when you employ it with some moderation. I've discovered that when I consciously choose to make such a shift, I can even go on a journey of reading erotically-charged gay romance novels, in which plenty of m/m erotic action goes on. In such novels the erotic activity occurs quite explicitly (though I can tell a woman is writing it!) in relation to a narrative arc and progressions of characters' experiences. It can produce strong emotional among the characters, and the readers in relation to them.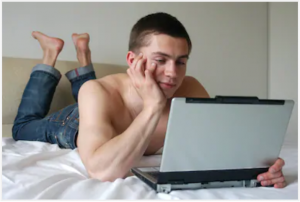 Chronic can refer to a weakness or illness, or it can simply mean well-established, so it's really a matter of how you use the word, whether or not it applies to you.
To me personally, the term "addiction" is not so ideal, as it often has negative connotations. A healthy obsession with self-touch is natural for human males growing into adulthood and beyond the teen years.
The bate hole is a wonderful image that makes complete sense to me, as personally I've been profoundly nourished and nurtured by the ecstatic sensations my penis is capable of generating in full concert with my lubricated hands. This ongoing ecstasy renders me a different kind of human being from guys who are always "horny" or looking to get off. My guilt-free and shameless self-pleasure proves actively beneficial.
Should you wish to get off, in any sense of these words, please do so without hesitation. The bate hole is something like that bliss called a "sweet spot in time." It's a worthy effort to become the masturbation porn star of your own life. Photograph and video record your bate. Consider proudly showing your face in such photos, as a mark of no shame or fear of discovery.
There is nothing illegal or shameful about masturbation. Why not pursue genuine excellence in the realm of human male masturbation? Someday you might win a masturbation marathon, or an artful masturbation contest something like figure-skating!
BRUCE P. GRETHER is the "BateMaster". Mr. Grether's lifelong love of penises and masturbation has led him to achieve a level of mastery and understanding of masturbation that is at once unique and extremely rare. He is renowned for both his ability to achieve seemingly endless states of prolonged and intense masturbatory pleasure as well as his skill in passing this knowledge on to his students. Mr. Grether has made it his life's mission to encourage men to take their practice of masturbation to new levels of personal enrichment and self-discovery.
Mr. Grether is a globally recognized masturbation activist, an accomplished masturbation coach, and a tireless facilitator of masturbation workshops. In 2001 he coined the now popular term "Mindful Masturbation". He is the author of a best-selling book, The Secret of the Golden Phallus, plus the erotic fantasy novels
The Moontusk Chronicles. His website can be found at www.eroticengineering.com.
A note from The Batemaster: I'm honored that the guys at Bateworld have asked me to respond to some questions from male masturbators around the world every week.
Always check with your doctor about any issues you might be experiencing with your sexual organs. Prompt diagnosis and treatment are important. This article's purpose is to inform and entertain readers and is not a substitute for medical advice or treatment.<
https://www.thebatorblog.com/wp-content/uploads/2018/09/ASK-THE-BATEMASTER.png
450
810
The Batemaster (Bruce P. Grether)
/wp-content/uploads/2015/02/batorblog3.png
The Batemaster (Bruce P. Grether)
2019-01-03 11:36:16
2019-01-03 11:36:16
Ask The Batemaster: Am I Addicted?